One of the most alluring aspects of the RV lifestyle is the ability to chase the weather, and we're not talking about storm chasing. When the mercury begins to dip, RVers across the country start preparing and looking for warmer climates.
Florida and Arizona are the two most popular snowbird destinations for RVers. Besides Hawaii, Florida is one of the few states in the US that doesn't experience a real winter. The northern part of the state may get a bit chilly, but the southern cities and Keys maintain their tropical charm practically year-round. While Arizona's summer heat can be intense for many, most of the state enjoys incredible winter weather that's akin to early fall in most states.
While these states are fantastic snowbird destinations, their popularity means plenty of crowds. We've got a few hidden gems for RVers looking to plan their next winter trip. Some of these destinations do not offer t-shirt and shorts weather during the winter but do offer unique opportunities for RVers to take advantage of. Check out these unique snowbird trip ideas from Lazydays RV!
Las Vegas
Like Arizona, Las Vegas is well known for its amazing spring and blazing hot summers. These months, along with New Year's Eve, are when Sin City is filled to the brim with visitors from all over. One of the most underrated times to visit Las Vegas is during the off-season, especially in the period between Christmas and New Year's. Casinos and restaurants are less crowded, and the typically hectic Las Vegas Strip is much easier to navigate.
Besides the Strip, Las Vegas offers tons of great activities for RVers to enjoy on a snowbird vacation. Fremont St. offers a trip back to the Las Vegas of yesteryear with a few modern twists that include a giant neon screen running the length of the street. The Neon Museum is a one-of-a-kind way to learn about the history of Las Vegas, while the Mob Museum provides visitors a glimpse into a different side of American history. On your way into or out of the city, make sure to stop at Hoover Dam to get a glimpse of an engineering marvel.
Bend, OR
While not a beach destination, Bend offers a milder winter experience than other mountain destinations. During the winter, temperatures typically hover in the 40s, but Bend sees much less rain than the rest of Oregon. What makes this Central Oregon city truly unique is how seamlessly integrated it is with the surrounding landscape.
Mount Bachelor, which offers full-RV hookups throughout the season, is a quick 30-minute drive from the heart of downtown. With over 100 runs and stunning views of the surrounding area, this ski resort is a must-visit for adventurous RVers. If craft beer is your fancy, Bend has some of the best in the country. The city boasts 24 breweries with dozens more in the surrounding area. Hiking, fishing, hunting and fine dining can all be experienced within the Bend city limits, making for an incredible winter trip.
South Padre Island, TX
If you want to set your sights on a beach this winter, South Padre Island should be on your list. This resort town is located at the southern tip of Texas just north of the border. Known primarily as a spring break destination, winter is an ideal time to visit South Padre, as the crowds are much smaller. Temperatures typically hover around the low 70s, meaning you can still enjoy all kinds of beach activities.
Fishing, windsurfing, jet skiing or just relaxing on the beach are some of the most popular maritime activities to partake in. Dolphin and sea turtle viewing tours are great ways to experience the natural beauty of the area, and the South Padre Island Dolphin Research & Sea Life Nature Center is a fantastic educational experience. South Padre Island has awesome beach dining and bars, offering everything from family meal spots to places to unwind at night.
Santa Cruz, CA
Santa Cruz might not be as warm as San Diego or Los Angeles, but it has everything an RVer could want in a California beach town. Just an hour-and-a-half south of San Francisco, Santa Cruz is home to several attractions that benefit from the smaller winter crowds. The Santa Cruz Beach Boardwalk is an extremely popular summer destination that is still a great way to spend a day during the winter. Plenty of rides, attractions, a couple of arcades and a mini-golf course mean fun for the whole family.
Head 10 minutes out of town to experience The Mystery Spot, a local attraction renowned for its gravity-defying anomalies. The Santa Cruz Mountains are home to fantastic wineries and amazing trails. San Jose, the capital of Silicon Valley, is just 30 minutes to the east. There, you can catch some NHL action at a San Jose Sharks game or get in on an NFL game by seeing the San Francisco 49ers play in nearby Santa Clara.
New Orleans, LA
Winter is a great time to enjoy all the Big Easy has to offer without the humidity! Bourbon Street and the French Quarter are alive as ever during the winter months, especially during big football games during December and January. The pre-game atmosphere around a Saints game brings the best out of the city and the Sugar Bowl combines the lively atmosphere of a college football tailgate with the magic of New Orleans.
If sports aren't your thing, the rich history of New Orleans leaves plenty to be explored. Take a haunted tour to learn about the spookier side of the city or visit the National WWII Museum for a thrilling look at a challenging time in our nation's history. A visit to the Bayou is much more comfortable on a cool winter's day, with all kinds of tours ranging from relaxing kayaking to exhilarating airboat rides.
Palm Springs, CA
This sleepy desert town was a favorite retreat for the stars of Hollywood's Golden Age and still offers plenty of RVers to enjoy. Situated 2 hours to the southeast of Los Angeles in the Sonoran Desert, Palm Springs is well known for great golf courses, incredible hotels and its laid-back way of life. The nearby town of Indio hosts the Coachella Valley Music and Arts Festival, one of the biggest music festivals in the world.
In the winter, the gorgeous desert scenery that surrounds Palm Springs becomes accessible. With temperatures hovering in the low 70s, outdoor activities like golf and hiking are perfect ways to spend a relaxing day. Joshua Tree National Park features some of the most breathtaking, surreal landscapes in the entire state, and is a must-visit if you're heading this way.
Hilton Head, SC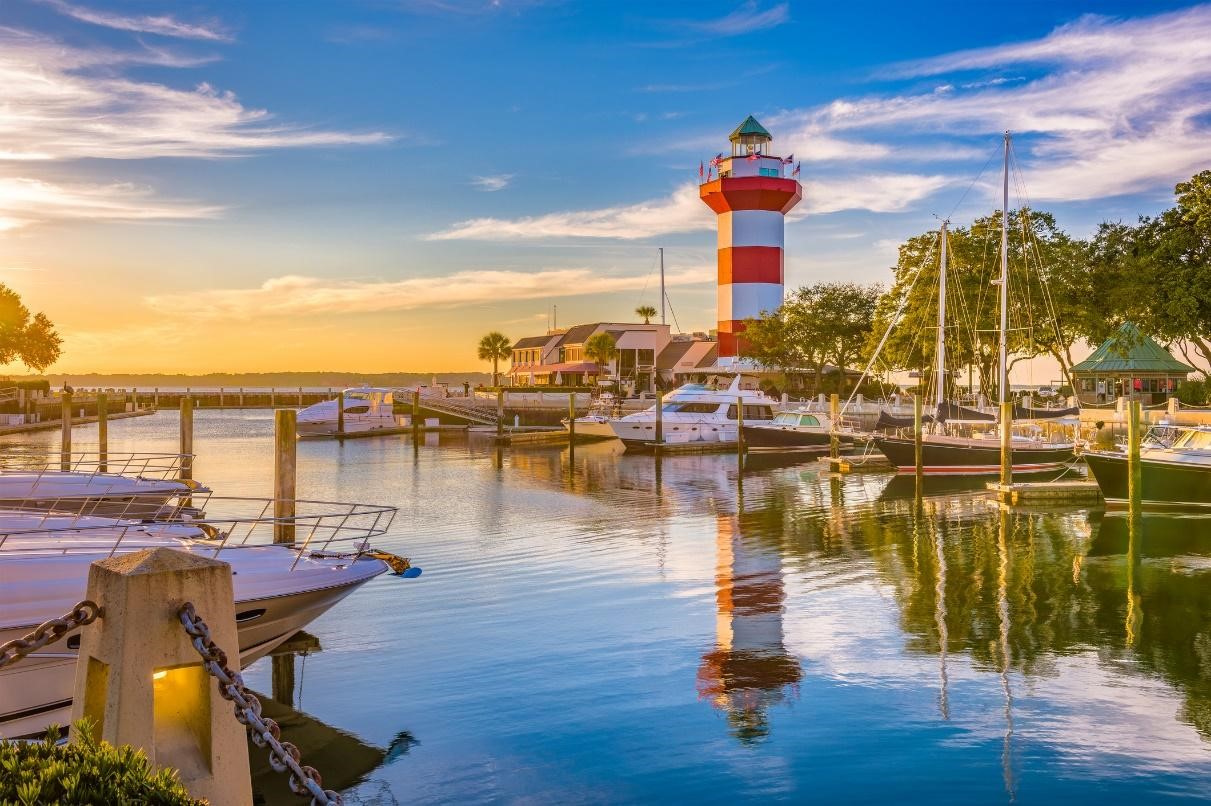 This quaint coastal town is a fantastic place to unwind for a few weeks or days. Featuring world-class golf courses and stunning beaches along the Atlantic Ocean, this island in South Carolina's low country is a great winter destination. The area is entwined with bike and hiking trails, making it easy to explore outside the confines of your RV.
The Coastal Discovery Museum is a great starting spot to learn about the region's diverse natural and cultural history. Venture to neighboring Pickney Island Wildlife Reserve to hunt, fish, hike or take a quiet bike ride through the gorgeous marshland. The docks are a great place to enjoy a meal or just watch the sunset over the ocean.
San Antonio, TX
Steeped in a rich history and vibrant culture, San Antonio is an oft-overlooked destination when planning a road trip through Texas. The Alamo is the city's most popular landmark, but that shouldn't be the only thing you visit. The River Walk offers visitors enough fun for an entire weekend with its mix of bars, restaurants and shops.
Sports fans can check out their favorite NBA team at a San Antonio Spurs game, and the annual Alamo Bowl typically features a great college football matchup. San Antonio Missions National Historical Park features four perfectly preserved Spanish frontier missions, with daily tours from park rangers offering insights into the region's colonial history.
For more RV trip ideas, service tips, info on the latest RV accessories and more, follow the Lazydays RV blog!