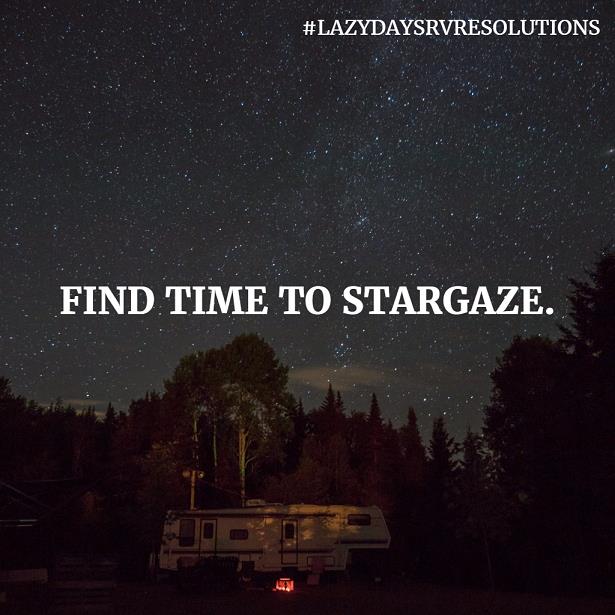 Make 2017 the year you prioritize your travel dreams! Whether you're hoping to buy a new or used RV from Lazydays, rent an RV from one of our Colorado dealerships, or take your current rig out on the open road, these resolutions will help inspire your next RV adventure!
Never made it to the Grand Canyon? Still haven't gotten around to visiting Mexico? Or maybe there's a national park the next state over that you've been meaning to visit. Whether it's near or far, make this is the year you travel somewhere new!
The best part of RVing is the flexibility it offers. Take advantage of the RV lifestyle and be as spontaneous as possible when plotting out your trip. Leave time for following your whims and taking detours!
Nothing beats staring up at the stars, but it can be easy to forget to take the time to do so. In 2017, we'll be going out of our way to see the stars from as many RV destinations as possible!
RVing is more than a mode of transportation—it's a way of life. To get the most out of the RV lifestyle, you'll want to connect with other RVers as much as possible. Visit one of our RV rallies at the Lazydays RV Resort in Tampa or simply invite a neighboring camper over for s'mores. We bet you'll have more in common than you think!
Be sure to keep up with our RV lifestyle blog for more road trip ideas , sales and events , vehicle spotlights , sweepstakes and more! From everyone here at Lazydays, we wish you a happy and healthy 2017!