You get to enjoy the sound of waves crashing on the sand, beautiful weather (usually) and tons of fun activities all from the comfort of an RV! With an RV, you skip the hassle of being constantly covered in sand and can seek comfort when it gets too hot or unforeseen weather shows up.
The continental U.S. has thousands of miles of coastline to choose from, but it's hard to argue that Florida and California aren't the two best states for beach camping in an RV. The question is: which state is better?
In California, RVers can enjoy beach camping in a range of climates near some incredible cities like Los Angeles or San Diego. In Florida, RVers enjoy tropical climates, white sand and some of the most incredible natural landscapes in the country. Lazydays RV is here to give you the facts to help you decide where to make your next RV camping trip. Here are some of the best places to RV beach camp in California and Florida!
California
Los Angeles County
For RV camping in the LA area, head down the Pacific Coast Highway (a.k.a Highway 101) to find some incredible spots. Leo Carrillo State Park, located less than 20 minutes north of Malibu, is a great RV camping spot with tons of activities for the whole family to enjoy. Tide pools and small coastal caves are great for exploring, and the beach has a great shore break for surfing or boogie boarding. RVers can head into Malibu for some fantastic shopping and dining, or head to the pier for some amazing fishing, as well as one of the most scenic lunch spots in Southern California.
San Diego
Just 2 ½ hours south of Los Angeles, San Diego is an RVers paradise. If you're looking for a classic California beach, head to Silver Strand State Beach. The campground can accommodate RVs up to 40 feet and is just 20 minutes from downtown San Diego. At the beach, vacationers can enjoy kite surfing, nature walks, swimming, kayaking and more. The Gaslamp Quarter is the perfect place for parents to enjoy a relaxing meal or a night out on the town.
Bodega Bay
Enjoy cooler climates, but equally stunning views and nature by RV camping in Bodega Bay. The small town, which lies 90 minutes up the coast from San Francisco, is best known as the location of Alfred Hitchcock's "The Birds." Thankfully, RVers won't have to worry about crazed birds and can enjoy the stunning beauty of Northern California's coast at places like Doran Regional Park. The park provides plenty of RV campground spaces where you can enjoy miles of hikes, wine tasting along the Sonoma Coast and great seafood.
Florida
The Florida Keys
It's hard to find a more stunning stretch of coast in the continental U.S. than the Florida Keys. This string of islands features pristine, white-sand beaches, lush mangrove forests and charming fishing towns. Locations like Long Key State Park make for excellent RV beach camping throughout the year. RVers enjoy snorkeling, kayaking, tropical fishing and incredible sunsets in the Florida Keys. Just like the drive along the Pacific Coast Highway in California, the journey down Highway 1 is filled with incredible views.
Gulf Coast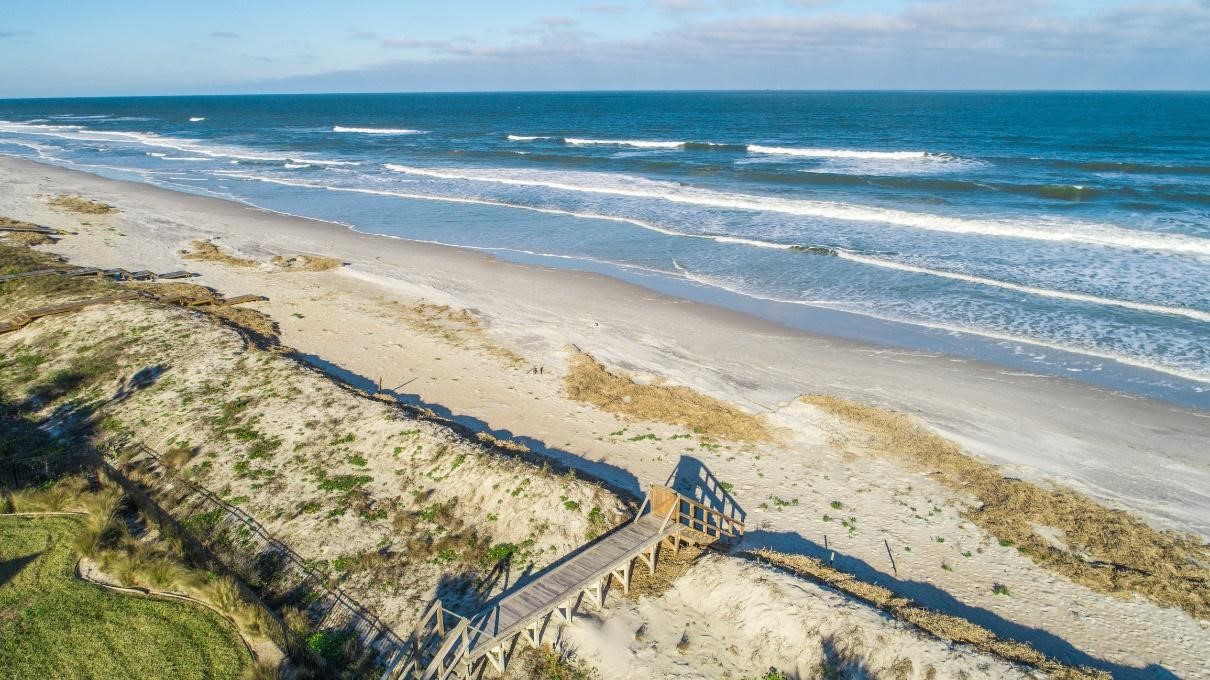 North Florida and the Gulf Coast offers some of the most pristine RV beach camping in all of Florida. St. George Island State Park, for example, features over 40 RV campsites along miles and miles of undeveloped coastline. The park is great for bicycling, stargazing and some of the best fishing in the state. With a slightly cooler climate than the more southern parts of the Gulf Coast, North Florida offers a unique natural landscape that RVers of all ages will love.
Atlantic Coast
RVers will find the classic Florida beach camping experience along the Atlantic Coast. Vero Beach, Daytona Beach and West Palm Beach are just a few of the fantastic destinations for RVers to head to on their next RV beach trip. Sebastian Inlet State Park, between Vero Beach and Palm Bay, is a great natural campground that features tons of activities for families. The best part is that it is a short drive from Cape Canaveral, home of the Kennedy Space Center. Travelers can check out the visitor complex, get a tour of the center.
For more RV travel tips and ideas, make sure to follow the Lazydays blog. If you're heading to a beach somewhere in Florida, stop at Lazydays RV Tampa to stock up on RV accessories, have some last-minute maintenance done or spend a few nights the Lazydays RV Resort.