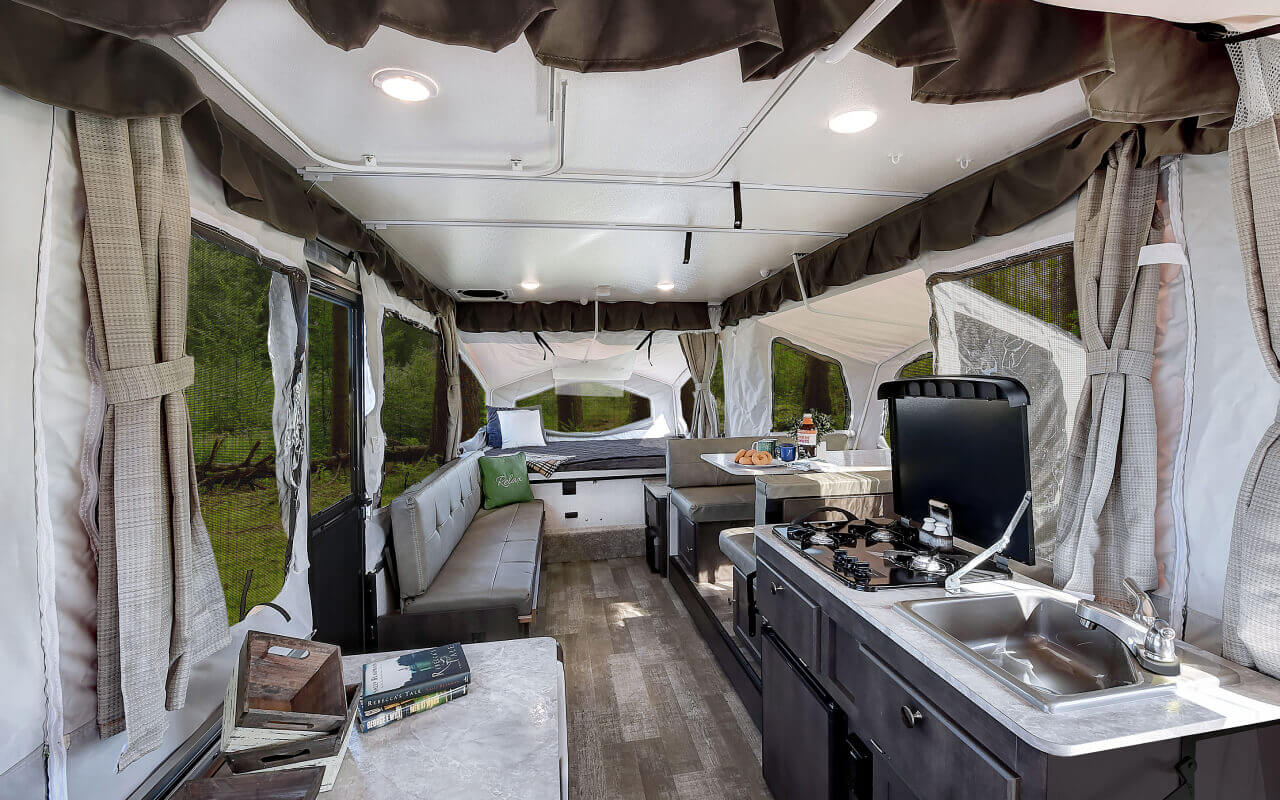 Camping gets you close to some of the country's best sights while offering incredible flexibility in terms of where you choose to camp. If you're upgrading from a traditional standard tent to a pop-up camper, it's important to learn more about this exciting adventure! With your new pop-up, you'll be able to enjoy a more comfortable camping experience without all the strains of building your tent or campsite from scratch each time you're ready to call it a night.
We offer a variety of pop-up campers for sale that are perfect for any destination. Whether you're buying your first RV or you're changing things up with a new setup, pop-up campers are a popular choice for RVers who have smaller towing vehicles. The lighter weight of a pop-up makes it towable by smaller vehicles, there are even pop-ups that are light enough for towing behind sedans. We invite you to learn more about pop-up camper towing needs so you can choose the RV of your dreams!
What to Know About Pop-Up Camper Towing
When towing an RV, it's important to understand the weight capabilities of your towing vehicle. Some vehicles like large pickup trucks have the power necessary to tow larger RVs such as fifth wheels. But if you're using a smaller sedan or SUV, you'll need to think smaller when it comes to what you'll be towing. Pop-up campers are some of the lightest options for RV towing.
Review your passenger vehicle's manual to find its towing capabilities. Many passenger vehicles can safely tow pop-up campers below a certain weight using a towing hitch. If you're interested in towing a pop-up camper with your passenger vehicle, make sure to confirm the total weight of the camper and any equipment you may be bringing along. It's also a good idea to familiarize yourself with RV towing capacity basics.
How Much Does a Pop-Up Camper Weigh?
The size, features, and materials used to construct your pop-up camper all influence how much your RV will weigh. On average, pop-up campers weigh around 2,000 pounds. Some smaller pop-up trailers weigh well below 2,000, while larger ones can clock in far above 3,000 pounds.
Standard passenger sedans are often best at towing pop-up campers that weigh less than 1,500 pounds. Heavier duty vehicles, such as 4x4 SUVs, can typically tow more.
Finding the Lightest Pop-Up Camper
If you're looking for the lightest pop-up camper available, make sure to start by shopping for a small size. There are plenty of pop-up campers and RVs to choose from, with smaller vehicles typically offering the lightest weight. A light pop-up camper will generally include features such as:
Expandable roof and walls
Sleeping area
TV
Cooktop and sink
Storage
There are also pop-up campers that offer bathroom amenities like a toilet or expandable shower area, though these types of features may increase the weight of your pop-up trailer.
How to Tow a Pop-Up Camper
Towing your pop-up trailer has many similarities to towing other RV types. You need to ensure that the pop-up trailer is balanced as you're towing it, without all of the weight in one concentrated area. Additionally, if you're towing with a smaller passenger vehicle, you need to ensure that you're not putting unnecessary strain on the hitch or jack where the camper attaches to the vehicle. You will also need to close the pop-up trailer before you hit the road. This means folding the walls, roof, and any expandable elements back into their resting place for worry-free driving.
Buying a Pop-Up Camper
One of the best ways to discover all of the benefits of RV ownership is to start with your very own pop-up! We offer a wide selection of new and used RVs for sale, including pop-up trailers that bring lightweight designs and popular features. Enjoy the outdoors with your very own pop-up!