Our Lazydays RV Accessories & More stores in Florida, Arizona and Colorado are a one-stop-shop for everything you need for the RV lifestyle, including RV parts, appliances and camping gear. Here are some of our favorite RV glamping accessories for 2018, which are on-sale now through April 30.
Thomas Payne Swivel Glider Recliner
RV glamping is all about comfort, and this recliner from Thomas Payne is as comfortable as they come. Enjoy the low-maintenance, easy-to-clean fabric, and don't forget to take advantage of the heated seat!
GSI Nesting & Stemless Wine Glasses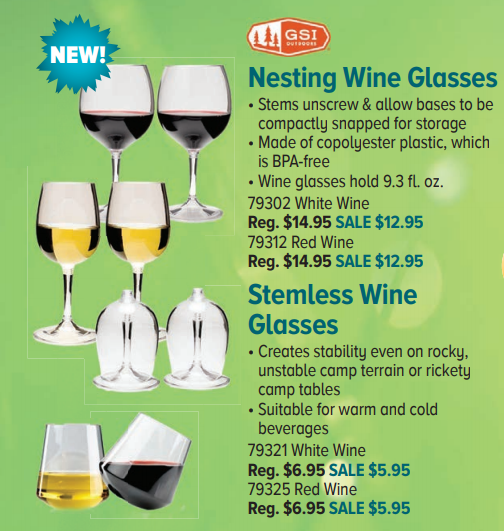 You won't have to worry about breaking these wine glasses, which come stemless or with nesting capabilities so they can be easily stored in your RV and used at your leisure.
Dexas Single or Double Pet Feeder
The RV lifestyle is perfect for the whole family, including pets! These single or double pet feeders will help keep your pet comfortable and full, even when you're on the road.
RV Cribbage Board
Playing card games is the perfect activity for travelers, and this RV cribbage board is a fun take on a classic game. You'll love the cute design and the hours of fun you'll have playing with your friends and family.
Honda RV Generator
With a generator from Lazydays, you can keep up the RV glamping lifestyle, even if you're away from a reliable power source.
YETI Cooler and Rambler
At Lazydays RV Accessories & More, we carry several YETI products, including this easy-to-carry 35-gallon cooler and insulated 30oz rambler, both of which will help you take your RV experience to the next level.
While you're visiting, take an opportunity to participate in one of our RV training and education courses in Tampa. You can also browse the nation's largest selection of new and used RVs, including top brands like Winnebago, Forest River, Fleetwood RV and Airstream. You can also visit our RV lifestyle blog to stay up-to-date on sales and events, browse through our collection of road trip itineraries, explore RV tips from the experts at Lazydays and much more.