By Joseph Garnett, Jr.
July 3, 2015
If you are still considering a great place to watch fireworks to celebrate Independence Day this weekend while traveling the country to your RV destination, here are some places around the country we have compiled from resources to help you decide.
Atlanta
Atlantic City
Baltimore Harbor
Boston, Ma. (Charles River)
Charleston, SC
Chicago's Navy Pier
Clearwater, FL (Coachman Park)
Cocoa Beach, FL
Excelsior Minnesota fireworks over Lake
Minnetonka
Jacksonville
Lake Tahoe, CA
Many of the places you can watch from the comfort of your motorhome. From the Keys in Florida to Dallas to Seattle and New York, there are some great places to celebrate our country's birthday.

Just an hour's drive in any direction from our luxury Lazydays Resort near Tampa, FL, you will find some beautiful displays. Disney World's Fort Wilderness Park is certain to keep you amazed. Also, our Lazydays Tucson Resort has several shows nearby. As a bonus for the holiday being on a weekend, some areas around the country have scheduled a show for each night. Most begin around 9 p.m.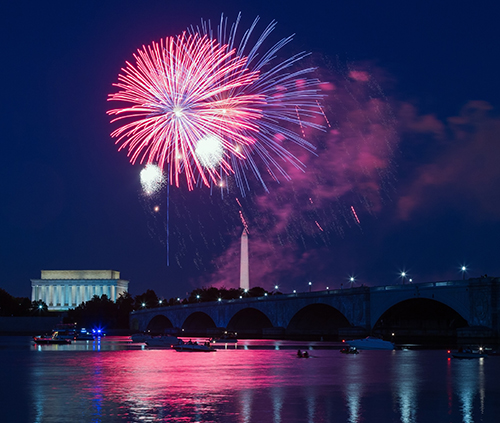 So, if you want to take advantage of a fun-filled weekend RV camping experience with entertaining fireworks, check one of the places on this is a list to find a beautiful show.
Las Vegas
Miami, FL (Biscayne Bay)
Nashville
New Orleans
New York City (East River)
Jacksonville, Florida
Philadelphia, Pa. (Delaware River)
Sanibel Island, FL
Seattle's Puget Sound
San Francisco's Pier 39
St. Louis
Editor's note: The RV Authority welcomes your input. If you have an idea for a blog article or would like to write and submit an article about your RV adventures, please click here to email us your suggestions or questions.