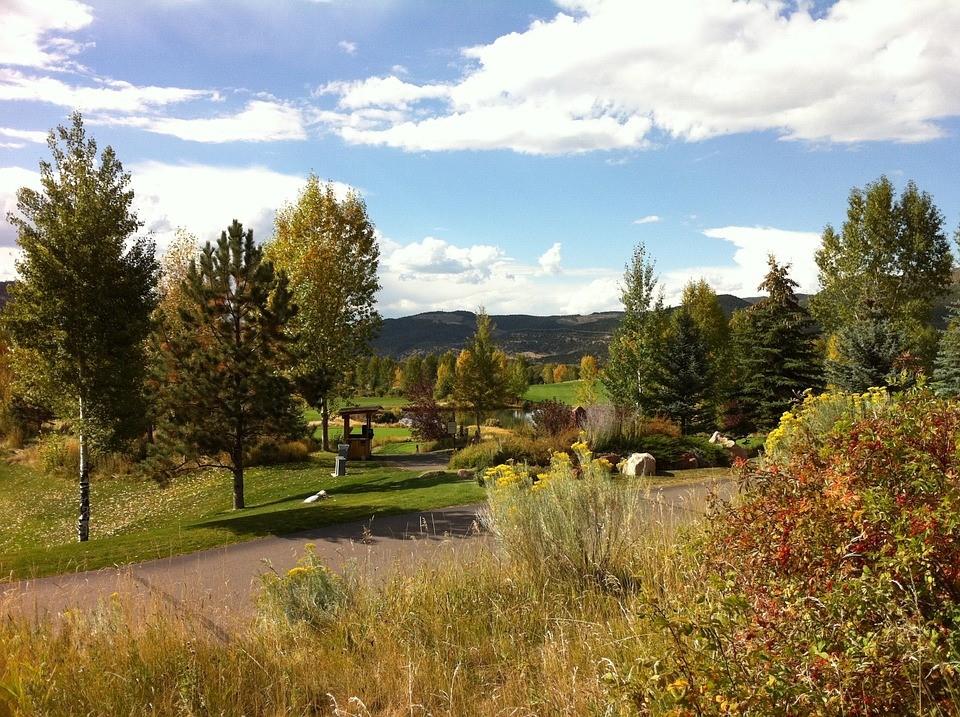 You can't talk about Colorado vacation spots without mentioning Aspen. The city is synonymous with outdoor adventure, which makes it perfect for RV living. From world-class skiing to breathtaking hiking trails, Aspen is perfectly designed for an RV vacation. While it's most famous for its wintertime activities, Aspen offers plenty to do in the summertime as well:
Snowmass Bike Park
Adrenaline junkies will especially love traversing the trails of Snowmass Bike Park. The park boasts downhill trails that take you on a thrilling 2,893 feet descent, starting from Elk Camp and ending at the base of Snowmass Village. While downhill biking may be daunting to some, pro riders are available to help beginners, and the park also offers more gentle rides through wildflower-dotted meadows.
Maroon Bells
Maroon Bells are the two most photographed peaks in the country due to their unique sedimentary mudstone rock makeup, which give them their unique maroon color. The area boasts fields bursting with wildflowers, tranquil Maroon Lake, and brilliant aspen trees. Note that during the summer, between 8am and 5pm, the area can only be accessed by shuttle bus, unless your vehicle has a handicap placard or license plate.
Aspen Golf Club
Golfers will marvel at this award-winning course located just minutes from downtown Aspen. With mountain views and a challenging 18-hole course, this Colorado resort is a can't-miss for golf lovers. After an invigorating round, cap off the night with dinner at the course's Red Mountain Grill.
John Denver Sanctuary
Folk music lovers shouldn't miss the John Denver Sanctuary. As implied by its name, the sanctuary pays homage to music legend John Denver, who often praised the area's natural beauty in song. Located adjacent to the Roaring Fork River, the sanctuary houses a large perennial flower garden and beautifully placed rocks, etched with the lyrics to many of Denver's famous tunes.
Silver Queen Gondola
No Colorado vacation is complete without a gondola ride. Aboard the Silver Queen Gondola, you'll take a 20-minute, 2.5 mile ride to Aspen Mountain. Once at the summit, you'll have plenty of hiking and photo opportunities, not to mention access to top-notch restaurants and guided nature walks. The biggest adventure, though, is the ride itself given the panoramic scenery.
Aspen Awaits You
Aspen offers countless adventures, whether you're visiting during the summer or winter. Before you embark on your journey, make sure to stop by Lazydays RV in Colorado to get a tune-up from our expert RV technicians, or to check out our latest RV models. Check back to our blog for more RV travel ideas and go RVing today!
SHARE YOUR EXPERIENCES WITH US
The RV Authority welcomes your input. If you have an idea for a blog article or would like to write and submit an article about your RV adventures, please click here to email us your suggestions or questions.