The Lone Star State is the 2nd largest state in the union in terms of landmass and population. It boasts three of the top 10 largest cities in the country by population (Dallas, Houston, and San Antonio), with Austin sitting at number eleven. Eight professional sports teams call Texas home and the state was an independent nation from 1836 to 1845. State history aside, Texas is a fantastic travel destination for RVers. Vibrant cities, breathtaking natural parks, gorgeous beaches and quirky attractions make for plenty of must-visit destinations on your next RV trip. Check out a few of Lazydays RV's favorite places to visit during an RV trip to Texas!
Houston
The most populous city in Texas and the fourth most populous in the US, Houston is unique amongst the state's major cities due to its blend of southern charm and multiple international influences. The city is a tremendous mix of diverse cuisine, incredible history and modern urban charm. Any trip to Houston isn't complete without a visit to NASA's Johnson Space Center. This massive complex is the center of the American space program and touts its rich history along with being an operational center. RVers can check out a replica of the space shuttle, check out mission control and see where astronauts train.
As a city rich in cultural diversity, Houston's restaurant scene is second-to-none in Texas. Visitors can enjoy everything from traditional Indian cuisine to Vietnamese/Cajun fusion, all within a short distance of each other. RVers who love sports can check out an NFL, NBA, MLB or MLS game, with three stadiums right outside of downtown. Turn your visit to Houston into an extended one with a trip to Galveston, a resort town just over an hour south of downtown.
On your next RV trip to the Houston area, make sure to check out our brand-new Houston Service Center where we service all RV brands. Located in Waller, this state-of-the-art service center features 20 service bays staffed by expert RV technicians. We accept all RV insurance and extended service plans, so book your next maintenance appointment today!
Marfa
For RVers who double as art lovers, Marfa is a must-stop on your next RV trip through Texas. This tiny town of just under 1,800 people features an eclectic collection of art installations, galleries and exhibitions. The most famous attraction that put this West Texas town on the map is the Marfa Prada exhibit, which is an outdoor sculpture modeled after a Prada storefront. The Marfa Lights Festival is a unique event held annually that celebrates the Marfa Mystery Lights, a mysterious phenomenon where colored lights can be seen dancing across the horizon. Beyond art and paranormal phenomena, the town boasts an eclectic dining scene, fun shopping and is a great launching point for a trip to Big Bend National Park.
Big Bend National Park
Speaking of which, Big Bend National Park is another one of our favorite destinations to visit in Texas for several reasons. Offering three different RV campgrounds that can accommodate rigs of all sizes, the park is located in the southwest tip of the state about 7 hours from San Antonio. Big Bend features huge canyons, epic stretches of desert, gorgeous mountains and a diverse wildlife ecosystem. Popular activities in the park include hiking, stargazing, horseback riding and biking. The period from November to April is the best time to visit the park since the summers can be quite hot. As one of the last truly wild places in the continental US, Big Bend National Park is can't-miss for any RVer.
Dallas/Fort Worth
Dallas sits as the hub of the Dallas/Fort Worth metro area (affectionately known as DFW), which is the fourth largest metroplex in the US. Perhaps Texas' most famous city, Dallas is a culmination of the state's past and a glimpse into its future. For a taste of classic Texas culture, head to the Fort Worth Stockyards National Historic District. The area hosts daily cattle drives, features plenty of great steak and BBQ restaurants and is home to the Texas Cowboy Hall of Fame.
Starting on the last Friday in September, the State Fair of Texas is the culmination of all things Texas. Lasting close to a month, the fair features incredible food that includes a fried version of anything you can imagine, fun rides and one of the best rivalries in college football, the Red River Shootout between the Texas Longhorns and Oklahoma Sooners. Just west of the fairgrounds, Deep Ellum offers an eclectic mix of bars, restaurants and shops that reflect the changing landscape of the city.
RVers looking for the ultimate RV tailgate must check out a professional or college football game at AT&T Stadium in Arlington. Home to the Dallas Cowboys, this marvel of Texas engineering features a 160- by 72-foot scoreboard and seats well over 100,000 fans. RVers can enjoy food, drinks and entertainment at Texas Live, a sprawling complex of bars and restaurants just outside the stadium.
Dinosaur Valley State Park
Image courtesy of Dinosaur Valley State Park
Just under two hours from Dallas is Dinosaur Valley State Park, one of the most unique state parks in the entire country. Stunning views, great hiking, swimming and fishing are all available to RVers in this central Texas state park. What sets this park apart from others across the country is the opportunity for visitors to discover dinosaur footprints along the bed of the Paluxy River. Five main track sites are accessible to visitors, with footprints from two distinct types of dinosaurs available to discover.
Austin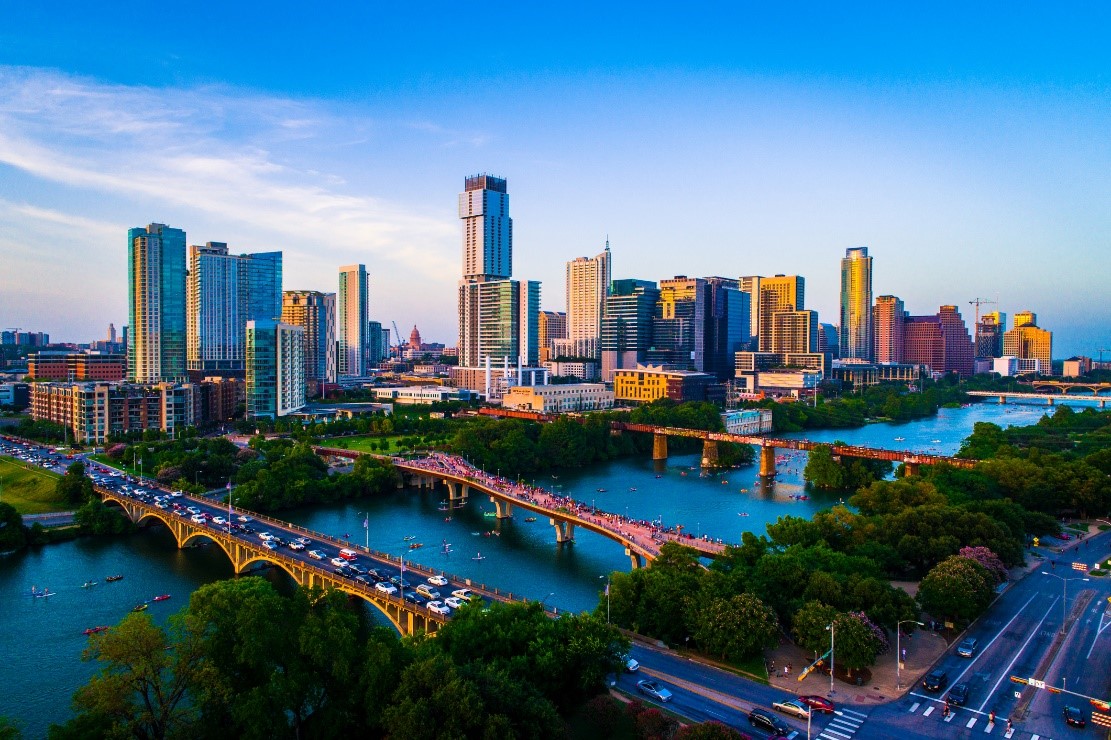 The state capital of Texas, Austin is one of the fastest-growing cities in the US and an amazing stop on any RV trip through Texas. If you're a fan of barbeque, Austin is the city for you. Consistently rated as one of the top cities for barbeque in the country, Austin's cuisine perfects the Texas tradition of brisket cooked low and slow. Besides eating delicious food, Austin offers tons of fun activities for RVers to enjoy. Spend a lively night out along the vibrant bars of sixth street catching a local act at a tiny honky-tonk or dancing the night away elsewhere. Check out the Texas State Capitol in the morning and then go for a swim at Barton Springs Pool in the afternoon. Nearby Lake Travis offers plenty of water activities and the Congress Avenue Bridge is the perfect place to watch thousands of bats fly out into the night at sunset.
Corpus Christi
Escape the chill of winter or the humidity of summer with a stop in Corpus Christi, one of Texas' most popular beach resort towns. Located south of San Antonio along the Gulf Coast, Corpus Christi has everything you need to enjoy a relaxing RV trip. Delight in a peaceful day at one of the city's many beaches or hit the water to jet ski, deep-sea fish or simply enjoy the water. Families can check out Schlitterbahn Waterpark or the Texas State Aquarium to check out the Gulf Coast's diverse wildlife. History buffs will love a visit to the USS Lexington, a decommissioned WWII aircraft carrier that participated in some of the most famous campaigns of the Pacific theater. No matter your idea for the ideal RV beach trip, Corpus Christi should be at the top of your list! For more RV trip ideas, service tips, info on the latest RV accessories and more, follow the Lazydays RV blog!