10 Florida State Parks Perfect for an RV Trip
The great state of Florida is an RV and nature lover's paradise.
The Sunshine State has 175 state parks, trails and historic sites, spanning 800,000 acres across 67 counties. With over 7,500 camp and RV sites. Florida's State Parks include 100 miles of beaches, 2,000 miles of trails and receives around 32 million annual visitors. Better still, there are dozens of parks stretching from the Keys to the Panhandle that feature RV camping sites.
Having called Florida our home since 1976, we love for RVers to explore the state's incredible natural beauty. The following state parks include plenty of RV camping, fun activities for the whole family, and a diverse range of natural environments. Check out 10 Florida State Parks perfect for an RV trip!
1. Alafia River State Park
Image courtesy of Alafia River State Park
Located about 45 minutes southeast of Tampa on an old mining site, Alafia River State Park stands out by having some of the most drastic elevation changes in Florida. Unique for a state with a relatively flat landscape, this park boasts 25 miles of mountain bike trails for adventurous RVers to tackle. The park features a variety of other available outdoor activities including fishing, horseback riding, birding, paddling and hiking on over 20 miles of trails.
The park has 30 RV campsites that accommodate pick-up campers, trailers and motorhomes up to 55 feet. Each includes 20/30/50-amp electric and water hook-ups, a picnic table and a fire ring. RVers can reserve a campsite online up to 11 months in advance. If you plan on heading to Alafia River State Park on your next RV trip, make sure to stop at Lazydays RV of Tampa for any last-minute service or accessories for your campsite!
2. Lake Griffin State Park
Image courtesy of Lake Griffin State Park
Home to 620 acres of marshes, swamps and sandhills, Lake Griffin State Park boasts a lush range of fauna and wildlife to check out. The park's signature feature is a 400-year-old Live Oak tree that is the second largest in the state of Florida. Park activities include seasonal pontoon boat tours of the Dead River Marsh, kayaking/canoeing throughout the park's river ecosystem and hiking. RVers who love to fish can cast for bass, crappie, catfish and other species that call Lake Griffin home.
Lake Griffin State Park has 36 available RV sites that accommodate trailers or motorized campers. Each site includes water and power hookups, a grill and a picnic table. Shower, restroom and laundry facilities are available and reservations can be made online. RVers heading to Lake Griffin State Park can stop at our newest location, Lazydays at The Villages to stock up on RV camping accessories or address any pre-trip maintenance!
3. Blue Spring State Park
Image courtesy of Blue Spring State Park
Relax in the 72° waters of the Blue Spring, hike along the Pine Island Trail and view Manatees in their natural habitats at Blue Spring State Park. 45-minutes to the southwest of Daytona Beach, this Florida State Park boasts incredible swimming and wildlife viewing opportunities beyond manatees. RVers can enjoy a boat tour along the St. Johns River, scuba dive or snorkel, go tubing and fish.
44 RV sites are available year-round and can accommodate RVs up to 40 feet long. They include water and electricity hookups, a grill and a picnic table. Pets are allowed under certain park conditions.
4. John Pennekamp Coral Reef State Park
Image courtesy of John Pennekamp Coral Reef State Park
Only in Florida can you find the country's first undersea state park with RV camping sites. Featuring over 70 nautical square miles of lush coral reef off Key Largo, this state park offers a one-of-a-kind experience. RVers can snorkel or scuba dive to explore the park's lush coral reef ecosystem. The park offers glass bottom and wheelchair-accessible boat tours as well. Two beaches, Cannon Beach and Far Beach, are in the park.
RV campsites are available for motorhomes up to 50 feet in length and include water and power hookups. Make sure to check out this Florida gem on your next trip to the Sunshine State!
5. Paynes Prairie Preserve State Park
Image courtesy of Paynes Prairie Preserve State Park
While this Florida State Park's landscape may seem like it was taken right out of the Old West, visitors are a 15-minute drive from Gainesville. One of the more unique parks in the Sunshine State, Paynes Prairie Preserve State Park features wild-roaming bison and horses. RVers can camp, bike, hike, fish and horseback ride throughout the park's 21,000 acres. The park boasts an amphitheater that serves as an excellent wedding venue. RVers can take advantage of 30 RV sites with electrical hookups and room for motorhomes up to 60 feet long.
6. Grayton Beach State Park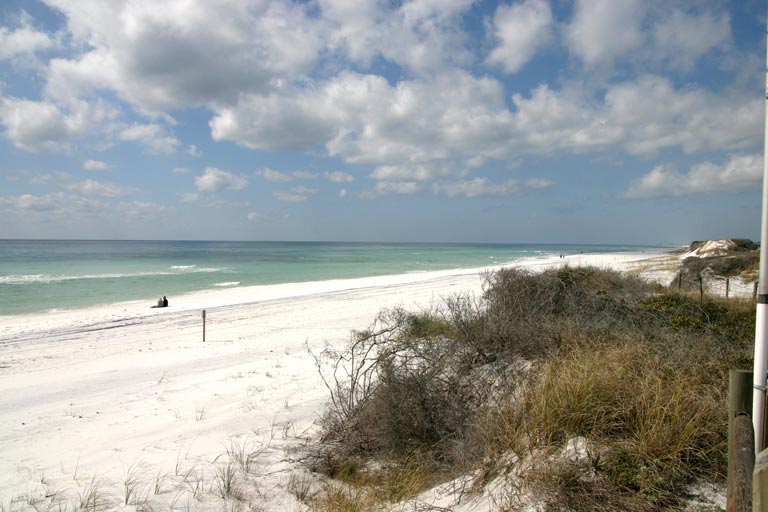 Often ranked as one of the most beautiful and pristine beaches in the U.S., RVers who visit Grayton Beach State Park will find it hard to disagree. Nestled along the Gulf Coast just east of Destin, FL, this state park features 2,000 acres of lake and oceanfront activities. Hike or bike through 4.5 miles of trails, paddle through the backwaters of Western Lake, swim in the Gulf of Mexico or look for a range of wildlife including Florida black bears.
If you love RV beach camping, make sure to reserve one of the 49 RV sites available. Amenities include power and water hookups with pets being allowed on site. Camping spots can accommodate RVs up to 40 feet in length.
7. Highlands Hammock State Park
Image courtesy of Highlands Hammock State Park
Located in the heart of Central Florida, Highlands Hammock State Park perfectly captures the region's untamed beauty. The park boasts a diverse range of wildlife including many rare and endemic species. Florida panthers and black bears, deer, alligators and a variety of birds all call the park home. Hiking is the premier activity Bike and walking tours or self-guided hikes in the park will take visitors through its hydric hammock, cypress and hardwood swamps and pine flatwoods. Available RV sites include power hookups and accommodate RVs up to 50 feet in length.
8. Little Talbot Island State Park
Photo courtesy of Little Talbot Island State Park
Just over 26 miles to the northeast of downtown Jacksonville lies Little Talbot Island State Park. RVers can partake in a uniquely Florida experience by exploring this undeveloped barrier island. Kayaking, beachcombing, surfing, birdwatching and fishing are just a few activities available. Wildlife in the park includes gopher tortoises, snakes, white-tailed deer, armadillos, bobcats and more. RV campsites allow RVs up to 30 feet in length and offer electrical hook-ups. Due to its untouched beauty and proximity to Jacksonville, this Florida State Park is a must-visit on an RV trip.
9. Manatee Springs State Park
Image courtesy of Manatee Springs State Park
Another excellent opportunity for RVers to view manatees in the wild, Manatee Springs State Park offers much more than its namesake. The springs have been visited by Floridians for over 10,000 years and were first frequented by the Paleo Indians. The park's 800-foot boardwalk guides visitors through a vibrant cypress forest and makes up part of the park's 8.5 miles of nature trails.
Visitors can kayak or canoe down the Suwannee River, fish from the boardwalk, scuba dive and snorkel throughout the springs. Over 60 power hookup-equipped RV sites give RVers plenty of opportunities to visit this magical Florida State Park throughout the year.
10. Bahia Honda State Park
Image courtesy of Bahia Honda State Park
A must-visit Florida State Park on any RV road trip through Key West, Bahia Honda State Park is breathtaking. Vibrant, turquoise water, a brisk sea breeze, porcelain white-sand beaches and stunning views make this place an RVer's paradise. Besides relaxing on the beach, RVers can indulge in a myriad of activities from taking a bike ride through the park to snorkeling in the key. With RV campsites located just feet from the beach, you'll find it hard to leave once you've parked.
Stay tuned to the Lazydays blog for more RV trip ideas. Visit Lazydays RV of Tampa or Lazydays at The Villages on the way to a Florida State Park to make sure you're ready for the RV adventure of a lifetime!