BY JUDY ANDREOTTI
Have you ever attended an RV trade show? We were in Florida this past February visiting friends and my buddies at Lazydays RV, just in time for the big Tampa show. My humans and I had never attended one, and since we had the time, we decided to go. Flexibility is just one of the many reasons why so many people enjoy RVing.
Well, the show was enormous: there were acres and acres of motorhomes, vendors, entertainment, food, and people everywhere! I knew it was going to take more than a day to see it all. With good walking shoes for my humans, and my primed paws, we headed out to get the lay of the land.
There must have been more than 2000 motorhomes on display to look at, tour, and ask questions about. I even got into the spirit of things the first two days of the show by posing as a model with all types of travel trailers, truck campers, motorhomes, and even took the time to talk to a tree.
We returned the third day to finish up with the inside pavilions. Inside the first building were aisles and rows as far as the eye could see of everything one could need, think they might need, and even items you didn't know you needed.
This would be a good place to tell you how tired I was getting and how I had to dodge human feet everywhere! A dog's view from down below is not always great unless there's food on the floor. I needed a place to rest, and then right ahead of me I saw heaven waiting just for me! A lady sales rep was talking about the "Euro Body Massager" and it looked so inviting. Without even asking for permission, I stepped up and sat down to get a massage. The machine was on and it felt like heaven at last! The lady never batted an eyelash or missed a word of her presentation, and continued to incorporate me into her sales pitch. Folks stopped, people were smiling, and cameras were clicking. I really drew a crowd to that booth!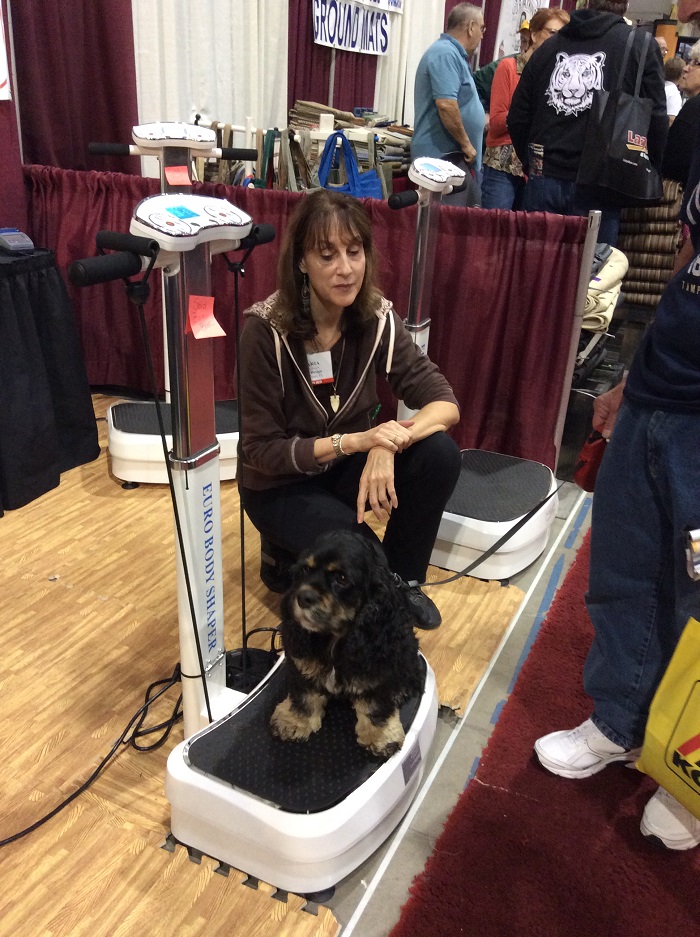 If you have never attended an RV show, you must put it on your bucket list. They are held in various states at different times of the year, and offer a world of information for the motorhomer "who is or wishes to be." I'm keeping RV shows on my bucket list because I know there will be another stop at a different show someday.
Now it's time for me to head back to Lazydays RV and The Wheelhouse for some well-deserved rest. We will be there for a few more days and I have plans to get "behind the scenes" of the Lazydays operation. If I don't get into too much trouble I'm taking you along on the tour! Tomorrow is another day with more adventures to come.