That's the magic of a Thanksgiving celebration on wheels! Every holiday should be special, no matter where you are. So let's dive into making your RV Thanksgiving not just a meal, but an adventure.
Delectable RV Thanksgiving Recipes
Instant Pot Turkey Breast with Herbs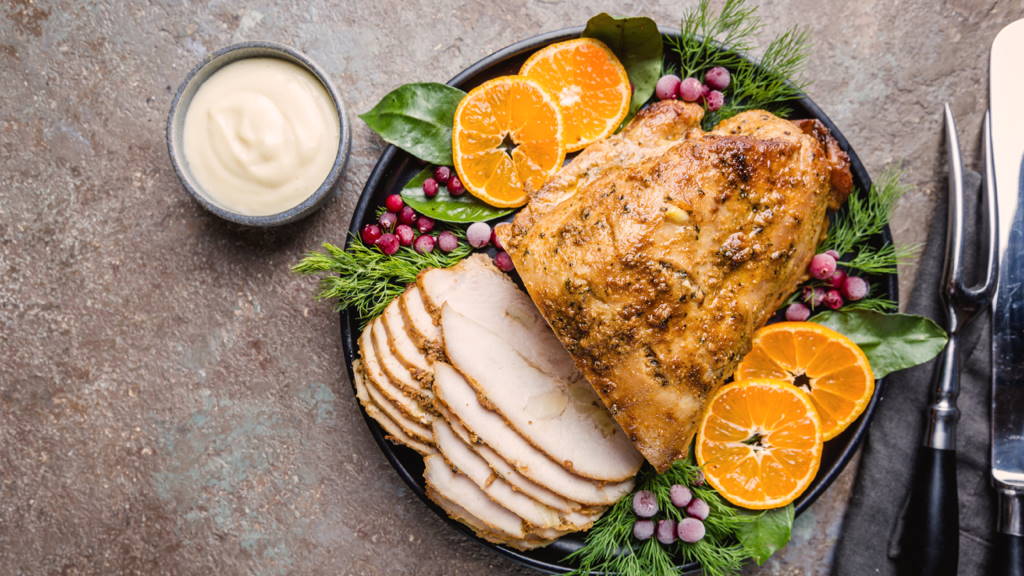 Who says you can't have a traditional turkey in an RV? This Instant Pot recipe is perfect for the compact yet versatile kitchens of modern RVs. Season your turkey breast with your favorite herbs, set it in the Instant Pot, and let it do the heavy lifting. In about 30 minutes per pound, you'll have a juicy, herb-infused turkey ready to serve.0
Check out the full recipe and cooking instructions here.
Wild Rice and Cranberry Stuffed Acorn Squash
Looking for a side dish that's as visually appealing as it is delicious? This wild rive and cranberry stuffed acorn squash is your answer. It's a beautiful blend of wild rice, cranberries, and herbs, all nestled in a roasted acorn squash. It's simple enough to prepare in any RV kitchen and sure to be a crowd-pleaser.
Grab the recipe here.
Maple Glazed Carrots with Pecans
Add a touch of sweetness to your Thanksgiving table with these maple-glazed carrots, topped with crunchy pecans. They're easy to roast in any RV oven and offer a delightful contrast of flavors and textures.
The full recipe can be found here.
Campfire Apple Pie Packets
Embrace the spirit of the outdoors with a dessert that's as fun to make as it is to eat. These apple pie packets, cooked over a campfire, bring a rustic and delightful twist to your Thanksgiving feast. They're perfect for a night under the stars.
Here's how to make them.
RV Thanksgiving Cooking Tips
The spacious kitchens in Class A and Class C RVs are perfect for preparing a full Thanksgiving feast. Whether you're in the luxurious expanse of a Class A RV or making the most of the cleverly designed space in a Class C RV, these tips will help you cook up a storm with ease and joy.
Space Management: Utilize every inch of your RV's kitchen. Class A and Class C models are designed with efficiency in mind, offering smart storage solutions and ample countertop space.
Appliance Versatility: Take advantage of the advanced appliances these RVs offer. From high-powered stovetops to convection microwaves, these kitchens are equipped to handle any recipe you have in mind.
Plan Your Menu: Consider the size and capabilities of your RV kitchen when planning your menu. Dishes that can be prepared in stages or those that require minimal space work best.
With these tips and the right RV, your Thanksgiving is sure to be as delicious as it is memorable.
Festive RV Thanksgiving Decor
Setting the scene is just as important as the meal itself. Here are a few simple yet effective decorating ideas:
Fall Foliage: Bring the beauty of autumn inside with artificial or real fall leaves.
Gourd Galore: Small pumpkins, squash, and gourds can add a rustic charm to your RV.
Candlelit Ambiance: Battery-operated candles can create a cozy atmosphere, perfectly complementing the fall theme.
Remember, Thanksgiving is about making memories, wherever you may be. In your RV, each dish tells a story, and every decoration sets the stage for a holiday to remember.
From our family at Lazydays to yours, have a wonderful and adventurous Thanksgiving on the road!