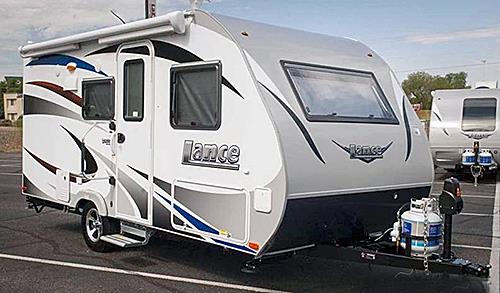 Product Profile
By Joseph Garnett, Jr.
September 9, 2015
From truck campers to travel trailers and toy haulers, if you are looking for top quality, The Lance Company has a history of providing some of the best RVs around. So, if you are looking for one of the leading in innovative RV travel innovations, the 2016 Lance models are available at our Lazydays Tampa and Tucson lots.
Best of all, the available Lance models are constructed with technology that other RV builders haven't discovered yet.
Superior Design and Engineering
3D CAD technology is used to design the look and feel of the Lance Campers. This process creates constructions plans with greater precision when it is built using Lance's Computer Numerical Control machinery. This CNC process works to eliminate construction flaws during construction. Therefore, everything fits perfectly into place and stays durable and sturdy for use each year. While many other builders use caulk, molding or batten to cover mistakes, Lance's use of superior technology eliminates mistakes from the beginning of the process.
Light-weight Construction
Lance's RVs are proven to be lighter and stronger. Each RV is constructed with a special Lite-Ply wooden product made in Europe. Lance's RVs have been tested to be much stronger than the competition. Some corporate jet manufacturers use the same type wood for strength and durability, while still remaining strong and light weight.
Environmentally-Safe RVs
Enjoy the wonderful outdoors is the fundamental goal of RV travel. Lance have place lots of focus on making sure that every RV is environmentally friendly. Lance's goal is to fully commit to aid and preserve the environment with eco-smart factories, construction techniques, sales materials and company rules.
California has extremely tough standards on chemicals. Lance only uses glues and cleaners that exceed those requirements. Also, less waste is created through the use of the CNC precision CAD process with the construction of each RVs. Lance has been leading the industry since it began in 1965.
Smart Shopping and Lance Rally
If you want to find a reliable RV that is built from the ground up to be environmentally friendly, then please visit our Lazydays Tampa and Tucson locations or log online and schedule an appointment for a sales expert to help you with your selection.
Also be sure to register for our Lazydays Tampa location Lance Preview Rally on October 8 – 11, 2015. Discover what's new in the Lance RVs and exchange adventure tales while enjoying lots of food, fun and entertainment. Reserve your place today by calling 877-406-8930.
Share Your Experiences With Us
The RV Authority welcomes your input. If you have an idea for a blog article or would like to write and submit an article about your RV adventures, please click here to email us your suggestions or questions.