Product Profile
By Joseph Garnett, Jr.
August 7, 2015
Lots of luxury. No Sacrifices. The American Coach wants the American Allegiance to be the RV of your dream. This luxury motorhome is one of the American Coach's most elegant RVs with all the latest and greatest amenities and conveniences of the RV lifestyle.
2016 Floorplan Options
The three floorplan options of the American Allegiance, include master bedrooms, a very large bathroom and lots of spaces for sleeping and seats for families and friends. Travelers have the options to choose their preference of an L-shaped sofa, dual bathroom sinks, a half bath, walk-in closet, and many other unique features.
Most Luxurious Interiors
There is no compromise when it comes to the American Coach RVs. A decorative ceiling trim, hardwood and fabric window treatments, premium hardwood cabinets and a hot-water system by Aqua-Hot. The entire RV has a central vacuum system. Inside the kitchen this luxury motorhome has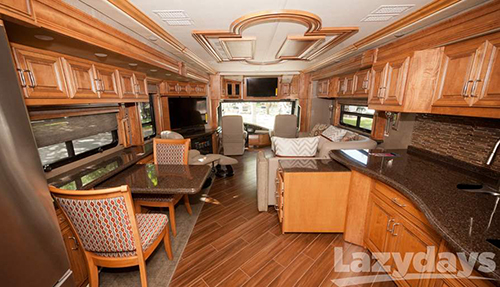 a decorative backsplash accompanied by stainless steel appliances and polished surface countertops. Everywhere you turn inside this RV there are high-end features that will make you feel certain that this motor coach is your dream home.
Quality for the Outdoors
American Coach realizes that most campers spend just as much time outside their motorhomes as they do inside.
That's why when you look at the Allegiance, the exterior is just as luxurious as the inside. Electrical outlets inside the luggage compartments are just a start. A one-key system, powered entry door awning, slide-out awnings and a wind sensor system are just a few of the options.
So, luxurious comfort will always be a part of your lifestyle even if you're just relaxing in bed, cook a great dinner, resting outside or cruising on the road to your next destination.
Discover the Allegiance
The Class A diesel American Allegiance is a must-see. This motor home has a legendary Freightliner chassis, which also allows ease in maneuvering. Visit us online or come to our Lazydays Tampa location and take a personal tour of the 2016 Allegiance with one of our sales experts. You'll discover that for an incredibly unbelievable price, this luxury motorhome can be yours today. Also, take advantage of the Lazydays Crown Club membership, Fly And Drive and enjoy $700 of free camping.
Editor's note: The RV Authority welcomes your input. If you have an idea for a blog article or would like to write and submit an article about your RV adventures, please click here to email us your suggestions or questions.