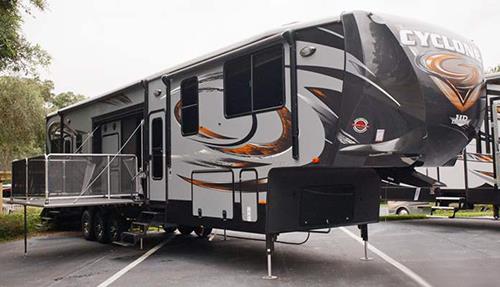 Product Profile
By Joseph Garnett, Jr.
September 21, 2015
Beautiful Interiors
The incredible interior spaciousness with giant slides and huge windows has residential furniture with built-in recliners for the entire family, plus a few friends. A full- featured kitchen comes standard and most models accommodate sleeping for eight or more.
The Entertainment Factor
The entertainment system features a LCD flat-screen TV and two stereo systems with multi-zone capabilities so that you can listen to music outside the coach while someone else watches a movie or listens to music inside the coach! CYCLONE owners can enjoy listening to their favorite CDs, catch up on the news, or listen to the big game on these powerful outdoor speakers, conveniently located patio side and easily controlled by the garage receiver.
And with the convenient lighting controls, you can set the mood or just kick back and relax.
One thing that still makes the 2016 Heartland Cyclone special is turning the ramp into a back patio for parties and increases its versatility.
The Heartland Fifth Wheel's construction has been subjected to rigid testing in the famous DOMESTIC Extreme temperature testing chamber. The testing chamber temperature is set to zero degrees to test the heating system, followed by setting it at 100-degrees to test its cooling ability. With a thick 2-inch laminated walls, enclosed and heated underbelly and insulated floor - the interior of the Heartland coach remained warm and comfortable through out the sub-freezing testing and nice and cool during the extreme heat test!
The Heartland Fifth Wheel is Waiting for You
Visit our Tampa and Tucson locations to experience the new 2016 Cyclone toy hauler. Please click here if you would like to see more fifth wheel and toy haulers or have a sales expert talk help you find the model that's right for you.
Share Your Experiences With Us
The RV Authority welcomes your input. If you have an idea for a blog article or would like to write and submit an article about your RV adventures, please click here to email us your suggestions or questions.