Product Profile

By Joseph Garnett, Jr.
September 2, 2015
Both inside and out, there is a wide selection of colors, styles and finishes. From the moment you see a Bounder, the high-style graphics and décor collection will welcome you with its gracious beauty and contemporary design.
New Interior Design
Ergonomics is one of the top features in the 2016 Fleetwood RV Bounder. Both the drive and front passenger can enjoy a dash made for comfort and convenience. The Ergonomic dash design with integrated camera and A/V monitors and modern finish. These features are accompanied by a fiberglass molded engine shroud cover with cockpit cup holders. The co-pilot has an integrated dash workstation and large center console storage drawer. Some optional features include a Hide-A-Loft P2K Front overhead Power Loft with a 500 – pound capacity. A French Door-style refrigerator with 2,000-watt inverter and two additional batteries can be found in the kitchen.
Multiple Floorplans
The 2016 Fleetwood RV Bounder not only has stylish designs on its interior, but eye-catching appeal on the outside, as well. With five basic chassis floorplans, the Class A Bounder has many options for each chassis floorplan layout.
New Exterior 2016 Design Features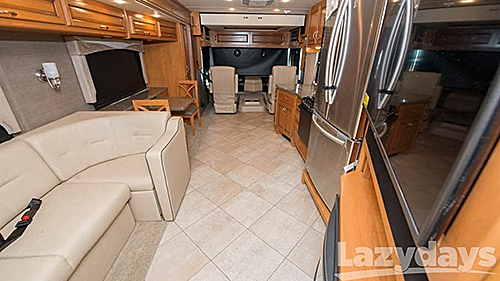 Powerlock SystemTM w/ Interlocking Floors, Walls, Ceiling
PowerframeTM Precision Welding w/5- Point Build System
IllumaPlexTM Electronic Control System
Aluminum Bus-Style Side Swing Luggage Doors
F-21 Construction & Manufacturing Technology
100 Gallon Fresh Water Holding Tank
Aluminum Side-Swing Luggage Door Latching System
Blind-Spot Safety "Doggy" Window - Late Availability
Exclusive 3rd Generation Power Platform® Construction w/Increased- Multiple Rotocast Molded Pass- Through Storage Bays
One-Piece Front Cap with Integrated LED Lights
One-Piece Rear Cap Design w/ Integrated LED Lights
Come Drive Your New Bounder
The 2016 Fleetwood Bounder is available at the Lazydays lot in Tampa, Fla. There are a number of Bounder floorplans in stock with more arriving daily. So, you can find one that fits your lifestyle for an unbeatable price.
Share Your Experiences With Us
The RV Authority welcomes your input. If you have an idea for a blog article or would like to write and submit an article about your RV adventures, please click here to email us your suggestions or questions.