From the stunning coastal views of Highway 1 on the West Coast to the epic scenes of historic Route 66, RVers can explore large swaths of the US from a single highway.
One of the more underrated interstate road trips is along I-95, which stretches from Miami, FL to Portland, ME. Along I-95, RVers can stop in Washington DC, Baltimore, New York, Philadelphia, and Boston. Best of all, that's just the first half of the trip! Whether you're heading north or south, there are plenty of incredible places to visit along Interstate 95. If you're looking for road trip ideas this summer, check out part one of our two-part guide to the ultimate RV road trip on I-95!
Starting Points: Are there any big differences?
Like all road trips, an RV vacation through I-95 must start somewhere. Whether it's Maine, Florida or somewhere in-between, where you start your I-95 trip from can lead to different experiences. Most RVers will have their starting point decided for them based on where they live. It wouldn't make any sense to drive up the coast and skip the destinations along the way just to hit them on the way back.
The time of year you decide to take a road trip up or down I-95 will provide a different experience. RVers in the northeast could choose to take their trip during the winter as you'll start in the snow but end up in the Florida sun. RVers based in Florida could do the opposite to enjoy New York in the snow or in the fall to see the beautiful scenery of northeastern fall foliage. In the summer, the only real difference as you move north or south will be the humidity, so enjoy at your preference.
No matter where you start, there are tons of great cities and sites to visit along the way.
Daytona Beach, FL
Whether you're starting or ending your trip in Florida, a stop in Daytona Beach is a must. Dubbed the "World's Most Famous Beach" (the sign above isn't joking), Daytona Beach is a quintessentially All-American beach town. Incredible weather, clear blue waters and tons of places to relax and have fun are hallmarks of this town. The city's most popular attraction is the Daytona International Speedway, home of the Daytona 500. Arguably the most important race on the NASCAR calendar, the Daytona 500 attracts more than 100,000 race fans and the entire week leading up to the race has a Super Bowl level of excitement,
Beyond the race, Daytona Beach is a great place to enjoy some sun and relax for as long as you'd like. A trip to the beach isn't complete without a stroll along the Daytona Beach Boardwalk, which features amusement park rides, fun shops, and food options.
Fishing is a very popular activity in Daytona Beach and dozens of charters are available to choose from. RVers can also simply pick up a rod, bait, and tackle, and head down to the end of the pier for a lazy afternoon. Kayaking, air boating, and scuba diving are other popular water activities and are a perfect way to enjoy the beauty of Florida's east coast.
Savannah, GA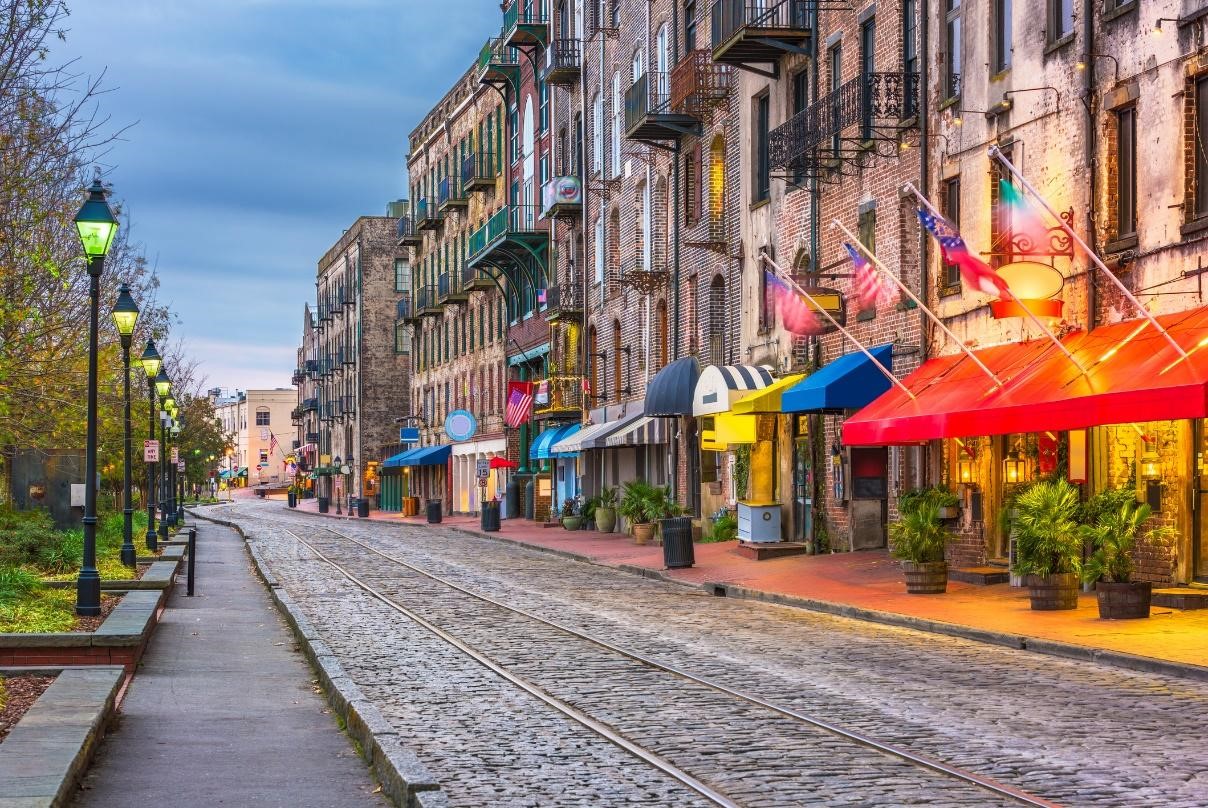 For a sample of true classic Southern culture, stop in Savannah, Georgia during your road trip along I-95. With antebellum architecture, gorgeous parks layered in Spanish moss and incredible history, Savannah is a true blast from the past. Forsyth Park is a stunning place to take a leisurely walk through or enjoy a quiet lunch in, while River Street features an assortment of bars and restaurants to enjoy. The city is awash in museums, with subjects ranging from WWII to the city's haunted history. If you plan on spending more time in the Peach State, check out some of our favorite RV destinations in Georgia!
North Carolina, South Carolina, and Virginia
In between Savannah, GA and the major cities of the northeast sit Virginia, North and South Carolina. I-95 does not pass through any major cities in North or South Carolina, but there are plenty of places to see along the way. In South Carolina, take several exits to visit quaint towns like Hardeeville, Santee or Florence to enjoy the incredible flavors of South Carolina style barbeque. Fayetteville, NC is the home of Fort Bragg, which is the largest military base in the world. One of the town's best attractions is the Airborne & Special Operations Museum, which charts the history of some of the U.S. Army's most storied units.
For RVers who love history, the Virginia section of I-95 runs through the historic towns of Petersburg and Fredericksburg. Both were the sites of some of the most famous battles in the Civil War and features several historical sites. Richmond, the capital of Virginia, is one of the oldest cities in the US and is layered centuries of rich history from the Revolution onward.
Washington, DC
A road trip along I-95 would be amiss without a stop in Washington, DC. The number of activities and places to visit in the nation's capital is so huge we could devote an entire blog to it. The Smithsonian Institution is your one-stop-shop for museums in DC, composing over 17 museums located throughout the city. The National Air and Space Museum, National Museum of Natural History and National Museum of American History are among the most popular. The Lincoln Memorial, Capitol Building and Washington Monument are all must-sees if it's your first visit to Washington DC. A walk through the National Mall is another must.
Beyond the historical and cultural attractions of DC, the city has great restaurants, bars, and activities in quaint neighborhoods like Georgetown or Navy Yard. Sports fans can catch a game from one of DC's four major sports teams throughout the year, with Navy Yard being a particularly unique place to watch baseball at Nationals Park.
Baltimore, MD
Seafood and history lovers will find perfect harmony in Baltimore, who's Inner Harbor offers the perfect combination of the two. Crab is the signature dish of Charm City and an order of steamed blue crabs or crab cakes are required dining. The Inner Harbor area is ringed with great seafood spots to stop in for lunch, dinner or a quick bite in between stops.
Visit Fort McHenry National Monument and Historic Shrine to see where Francis Scott Key was inspired to write "The Star-Spangled Banner." Baltimore is home to the National Aquarium, which features over 750 species of marine life. Several historical ships are docked along the Inner Harbor, many of which are their own self-contained museum. For sports fans, Oriole Park at Camden Yards is a great place to catch a baseball game on a warm summer evening.
Stay tuned for part two of our guide to the ultimate I-95 road trip where we'll cover major cities like New York and Philadelphia, along with some hidden gems like Providence, Rhode Island and Portland, Maine!
Whether you're starting or ending your trip in Florida, Lazydays RV has two locations in Tampa and The Villages to take care of any last-minute service or accessory shopping. For more RV trip ideas, service tips, info on the latest RV accessories and more, follow the Lazydays RV blog!