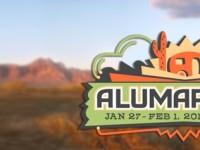 The anticipated Alumafiesta is one of the most exciting RV events of the snowbird season. This year's event is guaranteed to be better than ever with the ribbon cutting of our Lazydays Airstream store happening just before the kick off of the rally. Come see the latest and greatest Airstream RVs and accessories at our brand-new Airstream store while enjoying a fun and eventful rally in your very own RV.
What Is Alumafiesta?
Alumafiesta is an Airstream RV rally that's geared to show you the best that Tucson has to offer. Multiple excursions will happen each day, including scenic drives, downtown walks, self-guided tours, roaming through gardens, special lunches and visits to other Tucson area favorites. The evenings are packed with exciting and educational events including local speakers, a traditional happy hour, door prizes and indoor Airstream displays. Alumafiesta is a place where Airstream enthusiasts can come together to view new Airstreams, go on adventures and share ideas about Airstreams and the RV lifestyle.
Alumafiesta Details
This year's Alumafiesta will take place from Jan. 27 through Feb. 1, 2015, at our luxurious Tucson Lazydays KOA. The Tucson Lazydays KOA Campground will offer its first-class facilities including full hookups, an on-site restaurant, indoor event center and two swimming pools to all of those RV enthusiasts attending the rally. The online registration for the event is now closed, but you can still call the Tucson Lazydays KOA at (520) 799-3701 to make a campsite reservation for the event.
Adult tickets are $130 for duration of the event, and kids under the age of 15 cost just $55 each. Campsites for a full five-night stay are available for $225. Tickets include a welcome bag with information and discounts, six days of entertainment, five nights of premium RV camping, one dinner, two breakfasts, tours, daily prize drawings and other great surprises.
Find Everything You Need at Lazydays
Lazydays Tucson is now a one-stop shop for all of your Airstream RV needs. We'll have tons of brand new Airstreams in stock for the event, and our top-quality staff will be here to answer any Airstream questions you may have. We look forward to having you and your Airstream at our luxurious Tucson Lazydays KOA, and we can't wait to share our love of Airstreams with you next week.