Lazydays RV Rental Experience Featured in Trailblazer Magazine August 2017 Issue
Learn more about the Lazydays RV rental process from our friends at Trailblazer Magazine.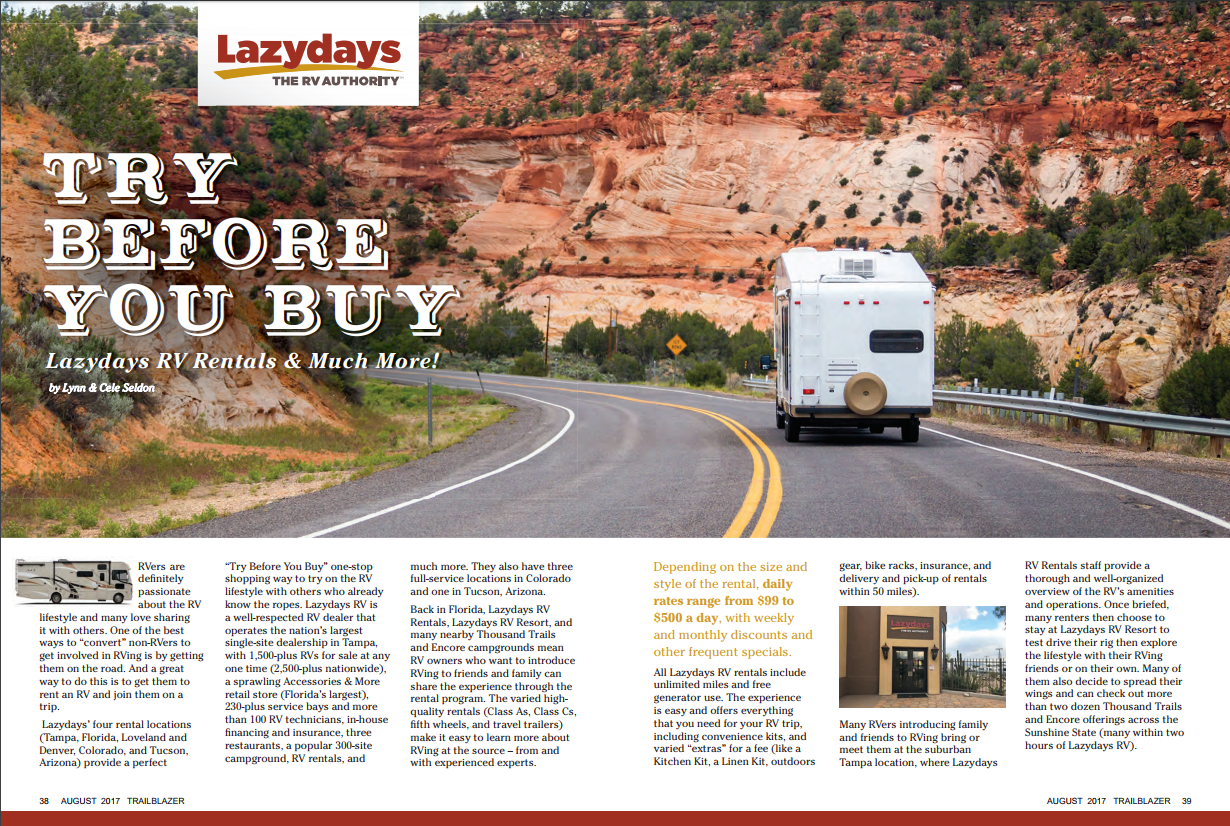 We're excited to announce that the August issue of Trailblazer Magazine includes a feature on the RV rental experience at Lazydays RV.
The article, which was written by Lynn and Cele Seldon, includes in-depth information about their personal rental experience and highlights the specific perks of renting an RV from Lazydays Tampa, including:
The Lazydays Experience
Don't miss out on a chance to explore the largest single-site RV dealership in the nation, where you'll be able to tour hundreds of RVs, including top brands like Winnebago, Tiffin Motorhomes, Entegra Coach, Heartland RV and many more!
Before leaving with your rental, you can experience the award-winning and pet-friendly Lazydays RV Resort, which features full 30/50-amp hookups, water and sewer connections, Wi-Fi, Exit 10 Restaurant and Pub, a complimentary morning newspaper, trolley service to and from Lazydays and so much more!
At Lazydays Tampa, you'll find Florida's largest RV accessories store, which includes a travel center, and RV education and training courses where all sorts of topics are covered, from trip planning and navigation to RV driver confidence and RV maintenance.
Try Before You Buy
New to RVing? Enjoy the opportunity to try out an RV lifestyle before buying an RV. Experienced RVers can use the opportunity to test out specific RV models before making a purchase.
Convenience & Ease
With Lazydays RV Rentals, you can skip the hassle of packing with affordable convenience kits including everything from outdoor furniture and bike rentals to linen kits and silverware. You can even take advantage of delivery and pick up of rentals within 50 miles!
With over 35 Encore and Thousand Trails RV resorts and campgrounds across Florida, renting from Lazydays Tampa puts you in proximity of great RV resorts to plan the ultimate Florida road trip! Take advantage of the Lazydays RV rental exclusive discount of 20% off all Encore and Thousand Trails RV resorts!
Take a peek at our RV lifestyle blog for road trip ideas and visit one of our RV rental locations in Tampa, Florida, Loveland and Denver, Colorado, or Tucson, Arizona to start your RV adventure!